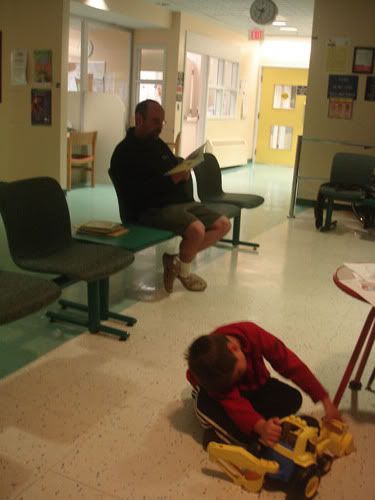 This is my night last night. at the emergency Room with Jacob. He has a throat infection and I KNEW it was going to get worse so James and I bundled him up at around 9:30 p.m. and off we went. Luckily it was empty and we got in right away. Unluckily, they said that his throat would be fine and never gave him anything....so right on schedule we go to bed and are awoken at 3:00 a.m. by Jacob's screams. *sigh*

He stayed up almost the rest of the night. By 4 he was throwing up and by 9:00 I had him right back to Dr. Button. He was so sick that I had to sit on the floor of the waiting room with him in my arms because if he sat alone in the chair he would topple over. Thank God Dr. Button saw us as soon as he got in and he was ROTTED because Jacob's throat IS infected and he could not understand why they didn't give him any antibiotics last night at the hospital. So now he is pretty concerned about the pain Jacob is having. It seems to be on the middle and right side of his belly. Right side meaning appendix area...not good. So now we have to watch him like a hawk and if his fever goes up (already it has) and if he can't walk ( I wouldn't know because he won't actually get up to try) AND, and this is the big one...if he has what is called "Rebound" pain after you press his right side (press his side it hurts, let go and it hurts WORSE and so far, that isn;t happening) then we have to go straight back to Emerg.

So he is sleeping right now...he hasn't thrown up since 2:50 and it is now 4:02. So he is keeping his medicine down in him anyway...while he is asleep I am popping online to update a few things and then I am back to my continuous watch of his every move.

Sick kids...I swear...there is nothing worse.