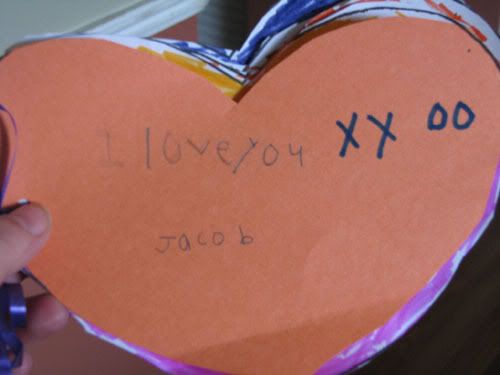 So it is Mother's Day. Usually I am not fussed on these Hallmark holidays but this year I plan on sitting back and just enjoying it. Why not right?

Jacob made this for me at school...it's a little heart card booklet thing where he wrote nice things about me...very sweet. "my Mom is beautiful because she loves me" I mean COME ON...how can you stop your heart from melting when you see THAT written in that small handwriting? And you know, Jacob is not the most loveable child. I'll admit that he is more lovable than William who really can be quite the iceberg when he wants to be but Jacob can can certainly keep up with him is he wanted to. LOL!! It amazes me sometimes how I could be rearing two small people who are SO unlike me...

Anyway...a picture for posterity:


Now...I'm off to have a nice long hot bubble bath...and then out to dinner with the whole family. Isn't Mother's day SUPER?